04.03.2015, 09:14
Fujitsu Launches GLOVIA ENTERPRISE MES, a Manufacturing Execution System
OREANDA-NEWS
. Fujitsu today announced the release of FUJITSU Enterprise Application GLOVIA ENTERPRISE MES
(1)
, a manufacturing execution system for customers in the assembly manufacturing industry. It enables information on the production activities of factories around the world to be coordinated among all production locations and the head office to strengthen manufacturing. GLOVIA ENTERPRISE MES is available for sale starting today.
By standardizing the methods for collecting and managing production performance data that vary by factory and sharing the data, this product enables comparisons of production performance between facilities, paving the way for production improvements through the sharing of know-how and kaizen activities. In addition, by linking the head office with each production facility, head office gains a timely grasp of inventory information and the status of production progress at each factory. This enables faster decision-making, and customers can quickly and optimally adjust their production organization in accordance with market needs.
With this product, Fujitsu helps the front lines of manufacturing to improve product quality, efficiency, and speed, as well as reduce costs, all on a global basis.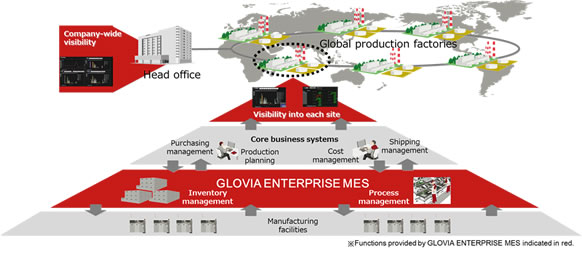 Background
Today customers in the manufacturing industry are accelerating the expansion of their business around the world, and there is an even greater need than before to raise quality, reduce costs, and shorten delivery times. While individual factories may undertake their own measures to continuously propose improvements and raise productivity, there are many cases in which this kind of performance information cannot be shared in a standardized format among different production facilities.
Based on the know-how it has accumulated over thirty years and in over 1,600 deployments of its MES Package Series for the manufacturing sector, Fujitsu has developed this new product, adding features to enable information from each production facility to be shared globally, to help customers enhance their global manufacturing operations.
Product Features
1. Standardization of production performance data enables information links among factories
Production results are standardized for each manufacturing method, including cellular manufacturing, single-piece flow, and production lines. This makes information from each site and factory uniform, and sharing of this information enables comparisons with other production facilities. That facilitates the spread of know-how and each factory's efforts at improvement, resulting in overall productivity gains for the company.
2. Connects with head office systems and brings visibility to operations
By flexibly linking front-line information, such as each factory's productivity and the production progress of each line, to ERP and other systems in the head office, the product enables people at each level of the organization, including executives, managers, and line workers, to see the information they need. That enables problems to be broken down to their fundamentals, and that information to be used to order specific improvements. It also gives executives the ability to immediately control front-line operations in response to sudden market changes.
3. Systematizes Japanese manufacturing know-how
The product systematizes such Japanese manufacturing know-how as just-in-time deliveries, in which orders to replenish the supply of parts to the line are issued automatically in the amount needed and at the optimal time. This increases the efficiency of replenishing parts matched to the processing stage of the line. It also brings efficiency to the work of creating inventory and delivery orders, and it optimizes inventories.
4. Delivers traceability through the management of quality information
Detailed management of quality information on the factory floor makes it possible to identify parts or materials that are the causes of product problems. It also identifies the products affected by defective parts or materials, resulting in two-way traceability. For companies, this both reduces their workload for quality management and enables quick response by isolating problems.
This product was developed by Fujitsu Advanced Engineering Limited.
Pricing and Availability
Pricing and Availability
Product Name
Sales Price
(excl. tax)
Shipment
FUJITSU Enterprise Application GLOVIA ENTERPRISE MES V1
Basic management
(1 server license, 10 user licenses)
JPY 2 million
March 13, 2015
Process management
(1 server license, 10 users licenses)
JPY 3 million
Inventory management
(1 server license, 10 user licenses s)
JPY 3 million
Process management and Inventory management require Basic management.
Sales Target
150 server licenses over three years.