08.10.2015, 01:30
Fujitsu Palm Vein Authentication Technology to Be Used for JCB's Card-less Payments
OREANDA-NEWS. October 08, 2015. Fujitsu Limited and Fujitsu Frontech Limited today announced that, in collaboration with JCB Co., Ltd., they have constructed a card-less payment system that incorporates Fujitsu's palm vein authentication technology into JCB's global network.
This system is the first in the world to link palm vein information with payment card information, to create an advanced payment scheme capable of authenticating a person's identity even when they are literally empty-handed, enabling purchases without payment card or smart device. In July, JCB confirmed the system's effectiveness in a field trial involving several hundred JCB employees who used the system to pay for food and beverages at the employee cafeteria in JCB's headquarters.
Fujitsu and Fujitsu Frontech will work with JCB to conduct additional field trials in other countries and regions, and will further refine the system with the aim of developing a practical payment scheme that meets the needs of JCB's customers and merchants.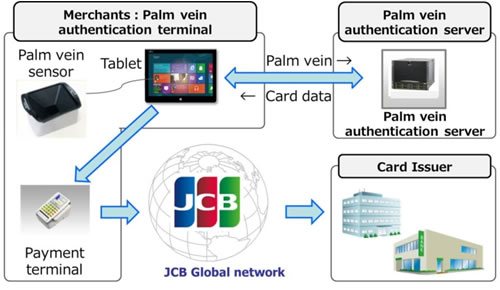 System Overview
Background
In recent years, a variety of new payment methods that use smart devices or fingerprints have been developed to replace payment cards. To provide its customers with a more convenient service they can use with confidence, JCB had been considering biometric payment methods that would enable payments without having to carry a card or smart device. As a result of this process, JCB decided to build a card-less payment system that employs Fujitsu's authentication technology.
This technology uses the veins in a person's palm, which are more difficult to falsify than fingerprints or other characteristics on the surface of the human body. Fujitsu has shipped a cumulative total of 470 thousand palm vein authentication devices, which have been used by over 63 million people in approximately 60 countries around the world(1).
Features of the Card-less Payment System Using Palm Vein Authentication Technology
1. Convenience: Hands-free shopping
The palm vein data from JCB's customers, along with their payment card information, is registered in advance in the palm authentication servers in Fujitsu's datacenter.
When making a purchase, the customer waves their hand over a palm vein sensor. From the palm authentication servers, the corresponding payment card's information is then read, and the transaction is processed. Depending on the number of people registered, however, a multi-digit number key may need to be input to narrow down the authentication process.
In this way, customers are able to make hands-free purchases, and therefore do not have to worry about their payment cards or smart device. Moreover, unlike fingerprints or other characteristics on the body's surface, the veins of one's palm are inside the body, and because their pattern does not change even when one's body is wet, authentication can be performed in any situation, even at the beach or a bath spa, enabling payments with outstanding convenience.
2. Security: Application of a highly accurate and secure palm vein authentication payment system
The risk of payment card data misuse is minimized as palm vein data is so difficult to falsify, resulting in a safe and secure payment system.
Fujitsu encrypts the palm vein data and related payment card information of JCB's customers and registers them to palm vein data servers. These are housed in Fujitsu's datacenters in Japan which feature cutting-edge security and highly robust facilities, and are strictly managed and operated 24/7. In addition, security is also achieved by using a closed network environment for the network that connects JCB merchants with the palm vein authentication servers.
Reference: Features of Contactless Palm Vein Authentication
1. Difficult to falsify since biometric source is inside the body
Palm veins are inside the body, thereby making them more difficult to falsify than fingerprints on the body's surface. Furthermore, compared to veins in the fingers or the back of the hand, palm veins have more blood vessels and are more complex, and compared to veins in the finger, which are capillaries, palm veins are thicker, main-line blood vessels, enabling stable authentication. In authentication tests conducted within the Fujitsu Group, palm vein authentication was extremely accurate, with a false acceptance rate of less than 0.00008% and a false rejection rate of only 0.01%(2), resulting in highly reliable security.
2. Virtually anyone can be registered
With fingerprints or faces, external factors, such as surface abrasions on the skin or dry skin, or the use of surgical masks during flu season, for example, could prevent successful registration and verification of the user's data. In contrast, Fujitsu's contactless palm vein authentication device uses information on palm veins inside the body, and therefore has minimal susceptibility to such external factors.
3. Contactless authentication device
The technology is hygienic and enables scanning that can be completed in a natural manner. This, in turn, helps to minimize possible psychological resistance to its use.
4. High reliability backed up by a global track record
Since Fujitsu and Fujitsu Frontech launched sales of the contactless palm vein authentication device in 2004, a cumulative total of 470 thousand units have been shipped. There is a track record of use by over 63 million people in approximately 60 countries around the world, with deployments continuing to expand.
All company or product names mentioned herein are trademarks or registered trademarks of their respective owners. Information provided in this press release is accurate at time of publication and is subject to change without advance notice.